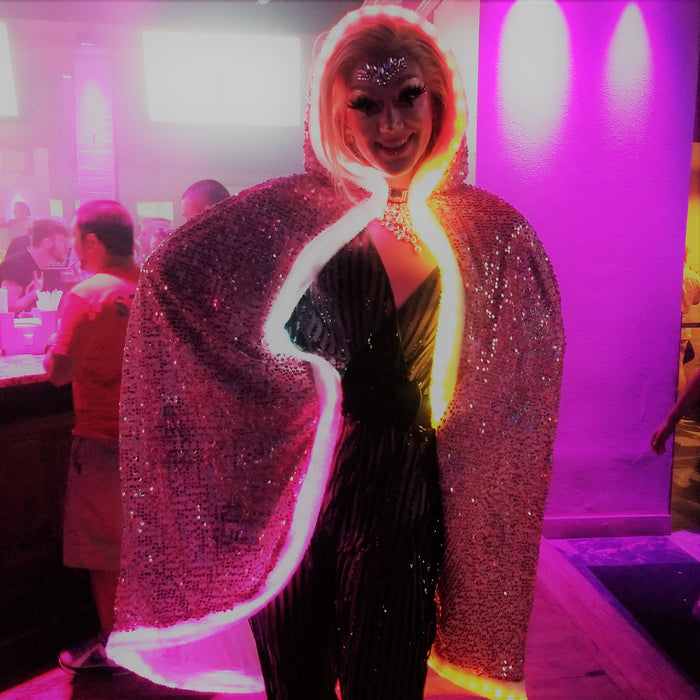 Drag Night on 4th Street is LIT!
Austin Bright Light Design was out getting LIT with the coolest queens in the gayborhood, Alysha Pretty & Robin Rose Quartz, at Oil Can Harry's.  We think they looked fabulous as all get out, and were happy that we brought smiles to their faces as they did to the show attendees!  
Let the show begin!
As it was our first drag show, we settled in and waited for the fireworks and we were not disappointed!  Our supermodels Alysha and Robin (above) made the rounds in their Austin Bright Light Design Sunshine Gold and Hot Pink Firefly Cloaks, as we tried to squeeze in to an already packed dance floor to catch Austin's best drag queens strut their stuff to laser lights, booming soundtracks, and a rabid crowd that was gripped in anticipation for the night's showcase. 
There was a total of five acts that night, and they were all SPEC-TAC-U-LAR!  The costumes were on point, the choreography was rehearsed to a "T" and audience participation was encouraged. 
One act, though, blew everyone away and was obviously the main event for the evening- Nadine Hughes!  (You can see how we reacted above!  LOL)
Nadine is a powerhouse performer, who absolutely runs the stage while she is on or off of it!  Those dollar bill tips were flying from fingers as fast as folks could get them out of their pockets as Nadine strutted, preened and shimmied her way around the crowd.  When the magic was over, we were left stunned in the afterglow knowing that we would have to do this again soon!  Luckily, we hear that Alysha Pretty and Nadine Hughes are part of the "Divas on 4th" review every Thursday at 11pm at Seller's Underground here in Austin.  Fantastic! 
See y'all there...we will be GLOWING!