Firefly Cloak
$ 249.00
$ 349.00
saving
$ 100.00
Firefly Cloak
$ 249.00
$ 349.00
saving
$ 100.00
Experience the ultimate make-you-smile costume!  Holographic sequins, dazzling lighting effects, wireless user control and the ability to sync with other Firefly Cloaks are just some of the features of this durable, washable and dance-able costume.
Light accented cloak with radio frequency (RF) remote control, millions of colors and over 300 lighting effects.  Comes with 12V lithium ion battery pack with USB 5V charge port.  Offered in Sea Blue, Sunrise Gold, Royal Purple and Hot Pink.  Out of the box functionality allows for syncing light patterns with other Firefly Cloaks on a single remote within 40' of the user!  Ideal for concerts, dance performances, festivals, business presentations and shopping....
Electronics are removable to allow for machine washing (cold, gentle cycle, hang dry).
Features:
Over 300 pre-programmed effects
Easy to use remote control
Dimmable
Adjustable timing
Pair with multiple Firefly Cloaks to sync lighting effects (40' radius) 
Holographic sequins 
6000mAh lithium ion battery pack with 5V USB to double as phone charger
Laser engraved Firefly logo clasp
Breathable materials with high performance wicking liner
Discreet hidden pockets
Hand holds for uninhibited dancing
Professionally CAD engineered for comfort and performance
Includes Firefly drawstring backpack to transport and store your cloak
Sizing: 
The Firefly is sized to "fit most". It will fit people from 4'11" and taller. The maximum neck size is 19". It is not designed or intended for children.  Suggested for ages 16+
Shipping:  Please note that due to restrictions on Li-Ion battery shipments, shipping in some regions must go freight only.   This may also make delivery times longer than what is shown during checkout.  We apologize for any inconvenience. 
Firefly Features
Experience the future of party costumes! Holographic sequins, remote-control effects, multi-cloak sync & more...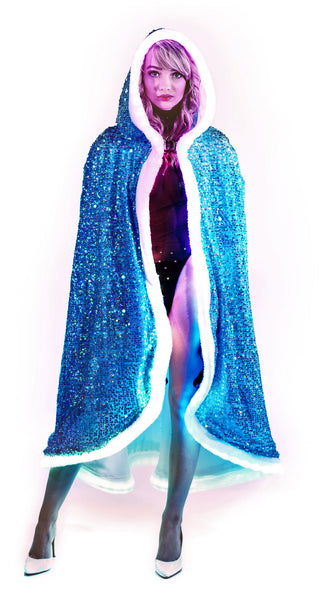 Smart LEDs

Waterproof, individually addressable LED strips capable of producing a rainbow of colors, and built to our specifications to withstand the rigors of the real world

100s of Patterns

With over 300 unique pre-programmed lighting patterns, Dimmable to match brightness and improve battery longevity

Wireless Remote Control

Every Firefly Cloak comes with a credit card sized, easy to use RF wireless remote control for adjusting all settings, and for controlling multiple cloaks together. Up to 40' range

Rechargable Battery Pack

Rechargeable 6500mAh Lithium-Ion battery pack will power the Firefly for up to 20 hours, depending on brightness and colors